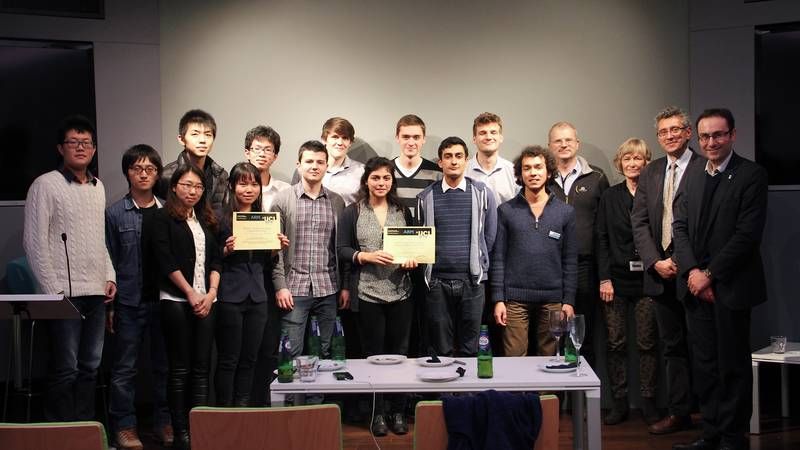 ARM-UCL Internet of Things (IoT) competition
Congratulations to Team Vortex, comprised of students from across UCL Engineering, who have won a £5000 loan towards setting up a new business related to treating the medical condition Anaphylaxis resulting from extreme allergies. Their prize includes mentoring from UCL Advances and ARM and business incubation space in the Hatchery. Their product, an innovative autoinjector connected to the internet, was deemed by the judges at a Dragon's Den style final hosted by IdeaLondon to be very exciting with real investment potential. The winning team comprised Mechanical, Electronic and Electrical (EEE) and Computer Science (CS) students.
The runner up team, Team Internet of Today, comprising EEE and CS students, won £2000 towards purchasing components to produce a working demonstrator to be set up at UCL for investors to see in action plus mentoring support from wireless sensor experts in the department. Their product is a similar device to an i-beacon and has applications in a range of sectors, ranging from museums to retail and supermarkets.
A total of 10 teams took part in the hackathon competition to develop a proof of concept device related to the internet of things over a period of three months. The judges were Professor Izzat Darwazeh from Electronic and Electrical Engineering, Professor Steve Hailes from Computer Science, Lillian Shapiro from UCL Advances and Crispin Semmens from ARM.
Zhibo Su, a Mechanical Engineering student representing Team Vortex said "I think this has been a really amazing learning journey for us. We started off without much technical background in the internet of things but through the support and funding from ARM/UCL, we have learnt quite a lot about it and have built a product we have to patent. We really look forward into making use of this fantastic chance to startup a company with the funding and mentoring support available. Thank you to UCL and ARM."
Chair of the judges and Director of the Breakthrough Information Technology Exchange (BITE) which funded the competition, Professor Izzat Darwazeh said "All the judges were most impressed with the quality of the winning teams comprising students from across UCL Engineering, both undergraduate and postgraduate. We are excited at the potential of both products and will ensure the teams receive mentoring in both further technology development and entrepreneurship, in partnership with UCL and ARM."